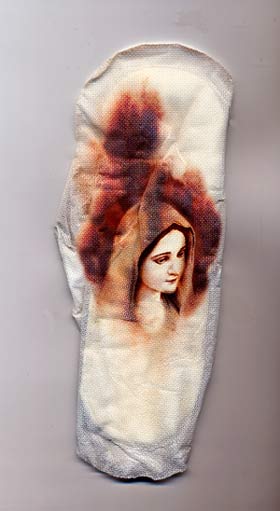 I posted before about the fact that my period has returned. One male reader reported a certain disquieted response. It's one thing reading about my baby's first steps, he can relate to that, but periods? Shudder!

The strange thing is this little exchange took place on a blog where lads are lads and love to push the boundaries of what they can discuss and say to each other - they love to discuss everything ick - from coprophagia, the consistency of their poo, all sorts of violence and gore, anything sexual is grist for the humour mill. But I've discovered the wolfsbane - the mere mention of a menstrual blood clot, and they're retching and running for the hills! Is it kryptonite?
Delighted as I am by this finding this sudden bit of power, it did initially make me want to do an early 90s comedy style riff about my flow, but in fairness the gentleman in question is perhaps more of the generation in which women were unable to buy tampons and menstruation was an unmentionable secret.
But as is clear, this blog is me. The fact that I've had my first period in a year and nine months is a significant thing for me as a woman - it spells out a return to normal feminine rhythms, ovulating again. It means I am back to my own inner routine, not the baby's. It is significant that I could now conceive again. I've never even taken the pill, as disrupting that rhythm didn't seem natural to me. This is something I want to document and mark, for myself. It is something that is central to me, and how I see myself as a woman.
Menstruating and the hormonal rhythms that come with it are very important to women. And when men laugh them off or shy away in disgust, it seems wrong to me.

But why all this menses-phobia? Why is the idea of blood from a woman's womb more terrible than, for example, incest, rape, coprophagia, any number of bizarre and nasty things!
Well, we know why. It's the vestige of a longstanding Judaeo-Christian misogynistic drive to wrest power from the hands and centres of women, who give birth, who hold the power within them. The first calendars were lunar, based on the moon's cycle, which a woman's menstrual cycle will naturally follow if given the chance. Our blood responds to the pull of the moon's path as the tides do. The lunar calendar has thirteen months, and women have, on average, thirteen periods a year. But the Gregorian calendar did away with that, imposed the solar calendar on us, along with a more patriarchal rule. Why is the number thirteen considered unlucky? Call it a smear campaign...
And so we have
churching
, we have the
mikvah
in Judaism. The idea that menstruation makes a woman unclean. Well, sure it can be messy. But what is wrong with menstrual bleeding? It makes sense - you build up a womb lining you don't need each month, if you aren't pregnant, it falls away - it's a far less unpleasant concept than a cut finger or strained muscle. Yet it has the power to fear and revolt. In the same way that the word 'cunt' has been imbued with the connotation of the worst that there is, the unholiest of unholies, cold you call anyone anything worse than a woman's genitals?
My mother had a very healthy attitude to menstruation, and I was never afraid or mystified by the idea. Or ashamed. It never bothered me that people might know I had my period (well, until I was teaching, and realised I was losing, ahem, the rag, with the same set of little fuckers at the same time each month, when normally I could deal with them, and I was horrified that one of them would work it out and say 'are you premenstrual, Miss?'). I bought a
mooncup
a couple years ago and I find it good - you have to get blood on your hands to use it though, and pour the little cup of blood out each time it fills. The blood is a dark ruby, it doesn't smell, it is rich and warm and I find it rather beautiful, to be honest. What is all the fuss about?
Men reading may say, what does this have to do with me? Well, if you are a father or grandfather, you need to be able to handle your daughters' or granddaughters' menarche, their coming of age, without withdrawing, or changing your relationship, or making them feel somehow rejected, or dirty, or strange. I think this is a huge area that needs to be more discussed, and brought out into the open.
If you don't have children, but you have a partner, I think her menses is something you should be aware of, if not in tune with. If only to remind her she's not losing her mind once month :)
This is something important, not to be turned into snide jokes, or to be disgusted by. It's not something to fear, but to revere. The real test of the ebbing of patriarchal values in our society will be when menstruation no longer carries with it any associations of embarrassment, disgust or shame for either sex.
Phoof, I feel better!