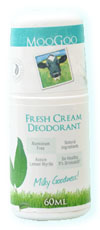 Several weeks into Moo Goo use, and I'm very happy.
It's not absolutely completely 100% smell killing if you go looking to check right up close, but it's good enough for me. I am very happy!
Only downside is the price, €7.85 or something like that, expensive as compared to standard deodorants. But, half the price of the fancy ones and vastly more effective.
So, a good result, and glad I found it!