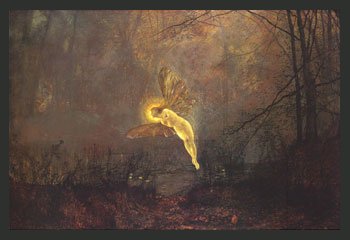 That's what it was, maybe. Midsummer. That's why I wanted to get married on Midsummer night's eve, to tap into a little bit of that magic.
The kids and I went to a party yesterday, and are going back later,
here
. My favourite kind of party, sitting round a big table in the garden, food and more food, some made there, some brought. The kids running around playing, climbing sliding, a bonfire lit.
Especially as Twilight, oops, I mean twilight approached, and the loveliness of that kind of party increased: There were bats, swooping and gliding and flipping after bugs, framed in the still light sky above the mountains. The kids playing and waving glow sticks, the tweenies hanging out and talking, and finding their own space to play. Teenagers chatting and chilling, and hopefully sneaking a beer or even a kiss, and twentysomethings with guitars, new babies, older people talking, drinking, minding children, grandparents, holding the fort, hosting, because.
Ach, because poor Billy had a febrile convulsion yesterday afternoon, took a while to come out of it, and his poor parents had to bring him into hospital. His dad came home to man the party but he was shaken, and Ciara and Billy weren't there. I looked at
Ed
, face lit by the glow of his sparkler in the dark, I saw the photo Ciara would have taken of him: sometimes I wonder just how she does it, captures the pictures that always blow me away, but there it was, right there, no artistry to it at all.
Everything's ok, and it seems it's not as serious as it seems, some kids just have a predisposition to them when they get fevers, and this is the age it manifests. They grow out of it. Still. Alarming. And sad they weren't there.
But hopefully we'll get to go back for round two later.
But that is exactly what I love a party to be, a fire, and space, and a little bit of glowing magic. Everyone relaxed and friendly. It felt like community, safe and perfect, except for the little boy and his mum, missing it. I do miss space, and a view, though our garden looks beautiful when decked in tealights. But there's no room for a bonfire or ten kids, I'm afraid. I did want to have a party for my anniversary, but Axel is not so keen. And he has a gig each night this weekend. So instead I'll go to Ciara's and drink in the atmosphere of someone elses celebration. I suppose that's just all there is to do.
I'm not sure what to do with that. My cousellor suggested that rather than just being hurt and disappointed about Axel not wanting to celebrate, I should just tell him I feel upset we're not, and ask if we can do something during the week.
But the problem is, that's not what I want. I want midsummer, and firelight, and we got married seven years ago today, sort of thing. Not dinner midweek and coming home to lie on the sofa, stuffed (him) and unsatisfied (me) as is our usual practice.